The Goforth office will be closed for the observance of the Thanksgiving holiday on Wednesday, November 22nd and reopening on November 27th.
**** Please contact Goforth's Standby phone at (512) 799-4873 or (512) 376-5695 operated 24/7 to report a water leak or a water outage. The personnel on Standby can provide an immediate update concerning your water service. Thank you!
A Stage III Drought Alarm has been declared. Please see the following important documents for further information.

Drought Information

Drought Contingency Plan

Stage III Drought Handout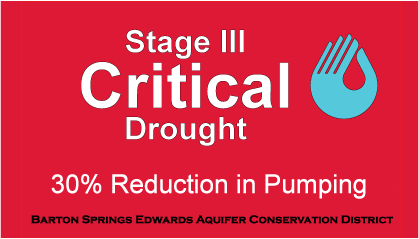 Goforth Board unanimously adopts change to the District's water service impact fee. Please see the following documents for further information.

Water Service Impact Fee Change

Order of GSUD Adopting a Water Service Impact Fee
**** Goforth Special Utility District is excited to announce that we will be upgrading the current water meter system to AMI. Please see the following document that contains important information regarding the upgrade that's scheduled to begin February 1st, 2021

AMI Water Meter System Upgrade Information
Board of Directors meetings are held on the third Wednesday of every month at 7 p.m. at the Goforth SUD office. Meetings are open to the public, and all customers and residents are invited to attend.
The November 29th Board Meeting has been postponed. The next Board Meeting will be December 13th, 2023 at 7pm.

Agenda Attached

Rules Of Conduct and Decorum
---